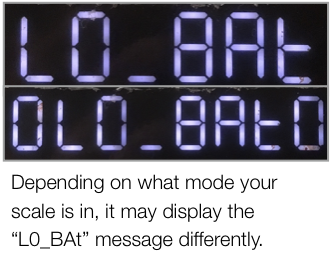 The code you are experiencing is the scale stating the battery is lo(w) on energy. Depending on which mode you're in, the scale will display the message differently, seen about is an example. The two 0's at each end are just the zeros from the weighing + timer mode. You may need to charge your scale once a week or once a month, depending on how frequently the scale is being used. For highly busy cafes, we recommend once every three days. You may also check the status of your battery with one of our apps, such as the Acaia Coffee app.
Does the scale display a lightning bolt or amber light when charging? If so, are you allowing the scale to charge for an hour before use? If the scale is not displaying a charge light, this could be the result of a defective or damaged charging port or charging cable. You can check the ability of your charging cable by attempting to charge another smart product. This process will rule out if it is the cable that is causing the issue.
When charging your scale, we highly recommend not forcing the charging cable into the port, as this may damage the charging port and leading to issues in the future.
Infotip
If you believe it is a defective charging port, please email us with photos of your scale at support@acaia.co
If the scale is displaying a charge light and you have charged it for an hour and continue to experience the LO_BAt message, you may have a defective battery.
Check out the following tips to potentially avoid a defective battery happening in the future:
Always use a certified wall-charger with an output of 5 volts and 1 amp.

There are many wall-chargers with a higher amp output and some may not be properly "UL" or "FCC" certified. Using a charger like this has the potential of damaging the scale. It's recommended to purchase a charging block from a big box store like Best Buy or Target and avoid purchasing from Amazon. Some charging blocks on Amazon have forged certifications and could potentially damage your scales board and battery. The charging blocks that ship with your mobile device is safe to use.

Don't leave your scale plugged in for longer than it needs to be.

It's only necessary to charge your Lunar or Pearl once or twice a week. A fully charged battery will last for about 25 hours of constant use, which takes about a week in a cafe. It is not recommended to let the battery run out completely before the charge.

Keep your scale stored in a cool, dry environment.

The Lunar is water-resistant and can handle spills, but be sure to not expose it to an excessive amount of water. If water gets on the inside to where it displays "H2O", put it off to the side for about 24 hours unplugged. Also, do not place the scale on your espresso machine's cup warmers to dry it out--the glue would melt from the heat. The Pearl is not water-resistant; please avoid getting water inside it.
If you believe that you are experiencing a defective battery, or any other persisting issue, please email us at support@acaia.co
Low battery Display Update
We recently updated the low battery warnings on both the Pearl Model S and the Lunar scales.
You can find these firmware updates through the Acaia Updater app, which is available on both the Apple App Store and Google Play Store.
Pearl Model S
Updated Feature: When the scale's battery depletes to a 30% charge or below, the screen will display 'Low Batt' once when it is powered on. It will not display 'Low Batt' during the rest of active use unless it depletes to a 10% charge.
When the battery depletes to a 10% charge or lower, the Pearl S will display 'Low Batt' and will then automatically power off. This is to stop the battery from draining completely.
Lunar
When the battery is running low but can still last for a while, "LO_BAt" is displayed once when the scale is turned on, but will not be displayed during use. When the battery is running very low, the Lunar will display "LO_BAt", then automatically power off.