Infotip
If you are having an issue with your Acaia product and it is still under warranty, please let us know at support@acaia.co. Our Lunar scale comes with a two-year warranty, while all other electrical Acaia products have a one-year warranty from date of purchase.
My battery has stopped working or bloated. Can I purchase a replacement battery?
Generally, yes.
If your scale is not retaining a charge, chances are it has a defective battery. Two signs of this are when your scale is charging but still displays 'L0_BAt' (see image below), or when your scale is only turning on when plugged in. In some cases, a defective battery could even puff up to the point where the accuracy of the scale is affected.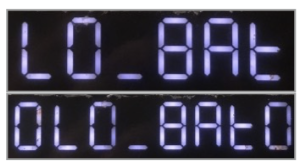 Sometimes, a scale cannot retain a charge due to a malfunctioning main circuit board. Since it's not easy to tell which part is causing the issue it is best to contact support@acaia.co instead of ordering a battery and replacing it yourself. Replacing the battery is not guaranteed to solve the issue.
That said, you can still purchase a battery if you would like to do the replacement yourself. Some of our resellers also stock batteries, so we may arrange the fix or replacement through them.
If your scale is still under warranty, a defective battery would be covered. The Lunar comes with a two-year warranty, and the Pearl comes with a one-year warranty, starting at the day of purchase. If the scale is outside the warranty, please read further.
In the contiguous 48 US states, we can sell you a battery. Please email us to arrange for the shipment.
In Canada, our reseller Eight Ounce Coffee stocks batteries.
In Hawaii, Alaska, Central America, and South America, we will ask you to ship the scale to us, so we can replace the batteries for you (outside the warranty). You will need to pay for shipping.
In Europe, we have several resellers who stock batteries and we can also ship from our Netherlands warehouse.
All other locations, we may be able to ship from Taiwan. The shipment will depend on customs laws for lithium-ion batteries.